LAF SYSTEM
The LAF system is a lightweight, cost and time-saving alternative to creating and installing decorative architectural features with traditional stonework. It is especially beneficial when specified for renovation projects, for example, reconfiguring a commercial or office building into apartments. It can also improve the external appearance of a building facade.
The LAF mouldings and functional details are created around a high density expanded polystyrene (EPS) core. A thin coat silicone render is then applied in a variety of depths of texture. The use of flexible, high-performance, base layers creates a robust outer coating. This results in a high level of resistance to impact and long lasting durability.
The manufacturing methods and flexibility of the EPS core material enables complete freedom of design. It offers limitless scope for the creation of bespoke window and door surrounds, raised bands, string courses, quoins, corbels, cornices, cills, keystones, pediments and other features. Existing features can also be matched, ensuring a newly built or renovated property is in keeping with those that surround it.
A suitable render system is then selected to encapsulate the LAF features and complete the overall exterior finish. If the property undergoing renovation is constructed from masonry, the Monocouche XF system would be installed. For newly built timber or steel frame construction, the flexible MonoTherm TXF system would be required.
The LAF system is a fraction of the weight of the stone equivalent with most features being able to be lifted comfortably by a single person, Therefore, the risks of long-term lifting related issues, serious injury or damage through dropping during installation, moving and storing at site are dramatically reduced.
KEY SYSTEM BENEFITS
Cost saving over traditional stonework
Reduced program due to speed of install
Greatly reduced manufacturing and supply lead times
Manufactured off site and ready for on time installation
Flexibility to recreate most forms of stonework detailing
Lightweight therefore safer to lift, install and handle
Freedom to finish in colours to closely match RAL codes
Perfectly suited for retro fit and renovation of existing buildings
EXAMPLES OF LAF PROJECTS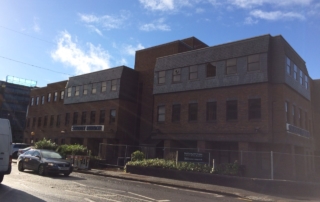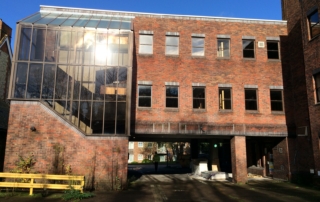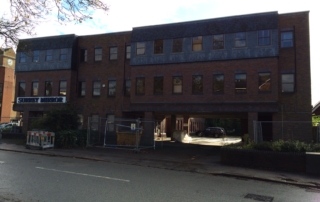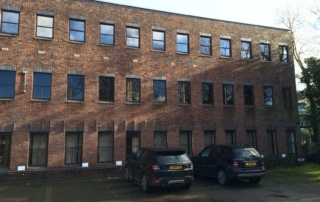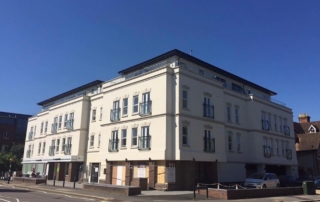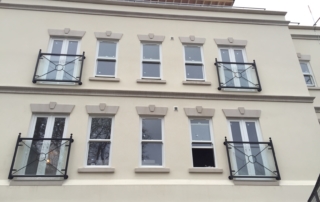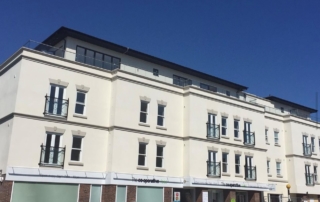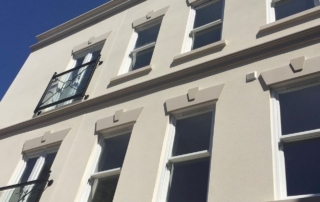 The developer of this former brick-built newspaper headquarters, in central Reigate, renovated the interior of the building to create several high-spec, luxury apartments. The stakeholders and architectural design team then wanted to achieve the same level of quality and opulence on the exterior of the building. They considered the addition of decorative features such as string courses, stone cills and heads. The LAF system was specified as an alternative to traditional stonework. Encapsulated with Monocouche XF Ivory, this solution saved many weeks from the build program and reduced project costs for the client.
The combination of the LAF and Monocouche XF system have transformed the building and the results speak for themselves.
EXAMPLES OF LAF INSTALLATION
The LAF system carries the most benefit when it is specified for use on larger scale renovation and remodelling projects or throughout an entire housing scheme. It is on this type and of scale of project that the cost savings of LAF, over that of traditional stonework, are significant (up to 50%). In addition, the speed of installation can vastly reduce the timescales and build program, bringing further saving. The LAF features can also be manufactured and stored, ready for on time installation, months before works at site even commence.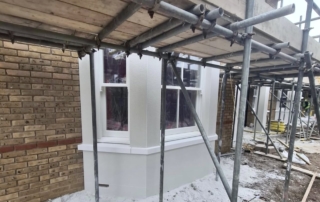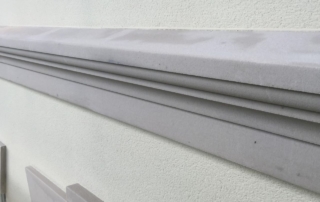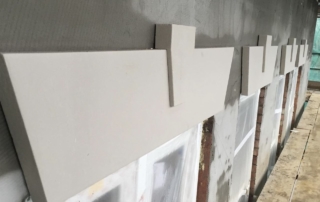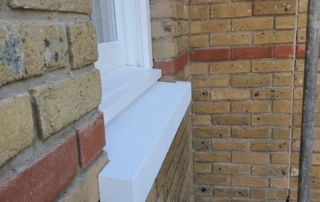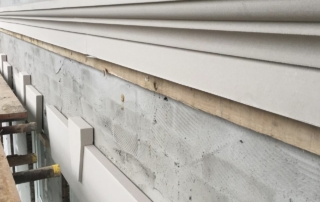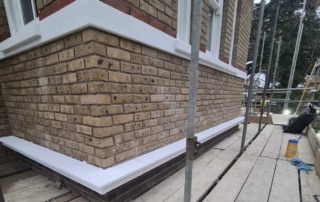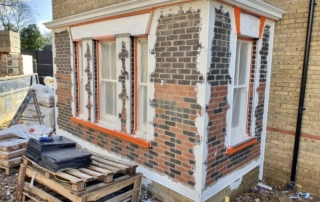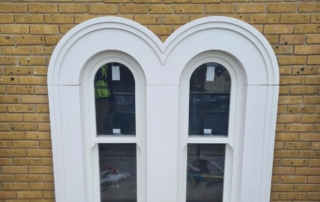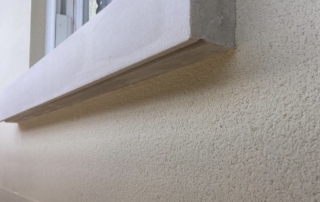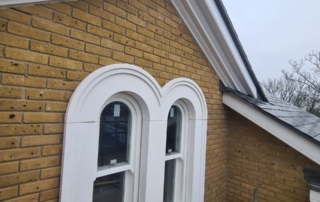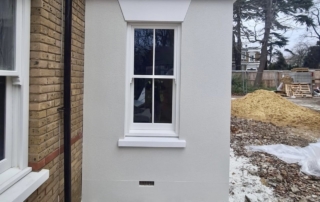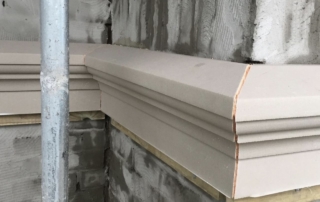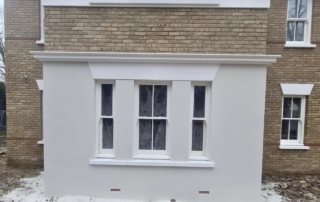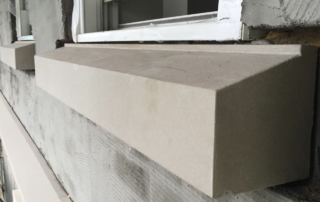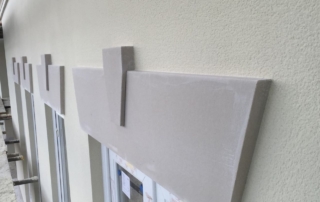 In addition to render system specification and supply, we also offer a turnkey supply and installation service using our own teams of installers. This guarantees that our systems are installed to the highest standard and without risk of defects due to issues with specification or workmanship.
A 10 year system and workmanship guarantee is also supplied with these contracts.
Please click here to learn more about our turnkey supply and install service.
Check out our Project Gallery to review some of our previous projects and follow us on our social media platforms to benefit from regular updates and honest, experience-driven, insights.